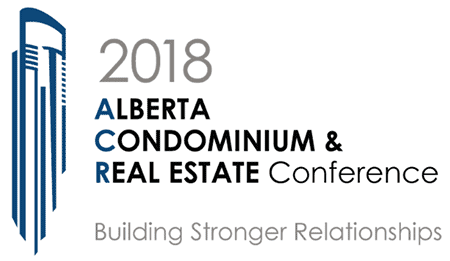 DATE: November 2 & 3, 2018
WHERE: Telus Convention Centre, Calgary
WHO SHOULD ATTEND?
The ACR Conference offers something for everyone…
Residential & Commercial condominium managers
Board Members
Condominium Owners
Real estate professionals – specializing in condominium sales
Self managed condominium corporations
Service suppliers
To register or learn more visit www.acrconference.org
KEYNOTE SPEAKER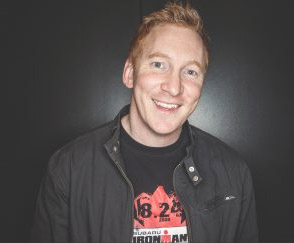 Graham Sherman is a self-professed "high level geek" who has used his love of technology to help him master the craft of brewing artisan beer. Together with his partner, Graham launched the Tool Shed Brewery four years ago, and has never looked back. Speaking on what it takes to be a successful entrepreneur, Graham's passion comes through in every talk.
Prior to starting Tool Shed, Graham and his Tool Shed partner worked on contracts for the Canadian and US governments and military forces, installing encrypted, tactical communication networks. By day, they rolled around Afghanistan in armoured vehicles, "geeking out" in the world of satellite communications. By night, they aimed their obsessive, high-level thinking at mastering everyday tasks such as coffee, learning to control their homes in Canada remotely with their iPhones….and finally, perfecting batches of beer.
Now sold in over 1000 locations in Western Canada, Tool Shed has its 15,000 square foot headquarters in Calgary, and the team behind the brand has also been nominated as Canadian Entrepreneur of the year, the world's most prestigious business award for entrepreneurs, with programs in 145 cities in 60 countries. They were also named as two co-winners of the "40 Under 40" recognition from Avenue magazine.
PROGRAM TOPICS
Renos series: 4-part session (10 minutes each and a Q & A)
Building Codes, City Permits, Mould and Asbestos
Know How to Pick Them – Insights into picking the right consultant or contractor for your condominium
How to Guide to Snow and Ice Management: What's your liability?
How to Provide Clean Air in your Building and Eliminate Toxic Gas Incidents
Updates to the Condominium Legislation
What's that Smell? Resolving Odour Transfer in Condos
Navigating the Cannabis Laws & Legislation in the Condo Industry
Imposing Collections
Join us for the 6th Annual Alberta Condominium and Real Estate Conference!
---
Congratulations to Crystal Deley
Crystal Deley, owner of ACMS, has received the Emeritus Award at the Real Estate Institute of Canada's 2018 Pursuit of Excellence awards. The REIC Pursuit of Excellence Awards Program recognizes the important contributions of individuals, organizations and associations in the real estate sector that promote and advance the industry and the Institute.
The Emeritus award is the highest honour that a member of the Real Estate Institute of Canada can receive. This award of excellence recognizes a member's sustained commitment and outstanding contribution to REIC at both the National and Chapter levels.
"REIC extends congratulations to all award winners," said Interim Executive Director and CEO Sandra De Medeiros, CAE. "These outstanding members and organizations have gone above and beyond to display their dedication to professionalism in real estate, and we are happy to celebrate them."
See Press Release & All Award Winners
---
Water Damage Prevention Checklist
With all the rain we have been having in the Calgary area, we felt it beneficial to share this checklist from BFL Canada.  Click on the image below for a printable version.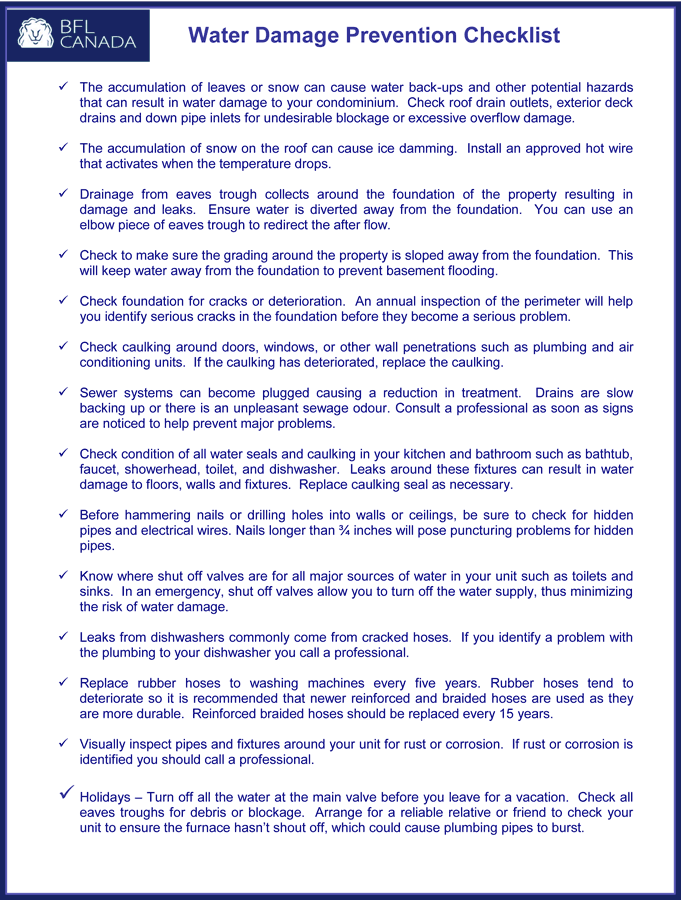 ---
Legal Update
Guidance on medical documentation needed for a condominium occupant seeking accommodation for a disability under the Human Rights Code.